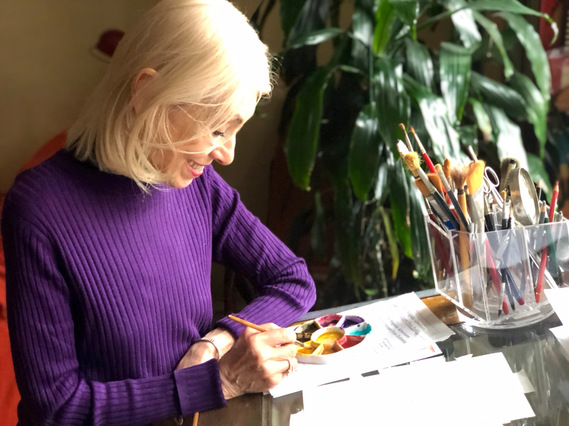 It seems I was born with quite an imagination. At the age of five I was convinced I could fly...a theory that ended with a loud thud between 2 small beds. Many years later, Jean Mercier, beloved Children's Book Editor of Publishers' Weekly, encouraged me to harness my imagination to the world of children's books. My curiosity became an interest, then a passion and now a dedication.
Like flying, my stories seem to soar out of the air ...an object, incident, even the call of a bird... and slowly shape into a story as the plot and characters form together. It's a labor of love. But work it is, and persistence that follows me everywhere. Even to sleep, where I believe the best computers operate.
My home in New York City revolves around my bedroom...aka my studio ...which can hardly contain, after the bed, a large old drafting table, long writing desk, file cabinets, even a sewing machine, and much equipment. Not to omit a jumbo playstation for the home's undeniable owners, Remy and Cherie, my two furry sidekicks who keep me on track.
Most of my work happens at my drafting table where I manually do all the art. I prefer ink and water color, mediums I developed painting florals. The writing too starts at the table in longhand, then proceeds to the computer....a relief with all those edits!
And the 'H' in front of my name? That happened too, when I was about five. Returning from a play date one afternoon I announced to my mother that I did not want to use my first name anymore. Why not? she asked. Because, I explained very decidedly, everyone I meet with that name has a terrible temper and I don't want one too! No doubt that playdate was a real bummer. So I used my middle name, however now, for numerous legal reasons, keep the 'H' in front."
I am a member of SCBWI and CBIG...the Children's Book Illustrators Group.